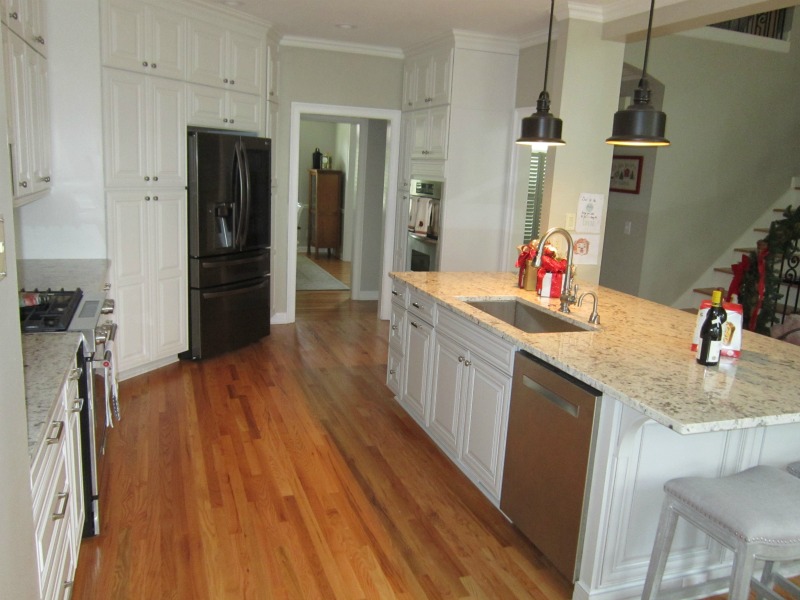 There is no doubt that the kitchen is the true heart of the home. Countless hours are spent there preparing meals, creating school projects, procuring midnight snacks and enjoying family dinners. It seems to be where everyone congregates. Because we spend so much time in our kitchens, it's important that it looks nice and functions optimally. There needs to be ample space to move around and plenty of storage. The stove needs to be near the refrigerator and the sink near the dishwasher. A well-planned kitchen layout is essential, and a design that fits your family's personality is important.
Bring your Kitchen into the Modern World with a Kitchen Remodel?
Kitchens of the 1980s and '90s look very different than today's modern look. Many were dark with stained wood cabinets, laminate countertops, and black or white appliances. Modern kitchens often have a better layout design, white or off-white cabinets with light colored granite or marble countertops and stainless steel appliances. While styles change year after year, a classic kitchen can stand the test of time.
Featured ContractorMen Kitchen Remodel
Let's look inside a recent kitchen remodel by ContractorMen that transformed an older kitchen into a light and airy room with more storage, a better layout, more charm, optimal cooking options, and functional added features. This kitchen was all wood. The flooring matched the cabinets making the room feel very woodsy. Storage was limited and cooking capacity small. The sink and dishwasher were built into a "C" shaped island that didn't function very well.
Removing the current sink location and reconfiguring the island was a must. It provided additional space for a full kitchen table. There was also room for stools at the end of the counter for a breakfast bar. This process required a tough flooring issue. Filling in and matching the current flooring is always a challenge but one ContractorMen can handle.
New white cabinets were installed all the way to the ceiling, adding loads of extra storage space. Who doesn't love extra storage space in their home? New lighting brought a pop of pizzaz as well as did the backsplash and gorgeous countertops. The stainless steel extra deep kitchen sink and faucet are envy-worthy.
In addition, added perks like a wine cooler, spice rack drawer, and a pull-out trash and recycling compartment make this kitchen functional. Modern stainless steel appliances were the final piece that pulled it all together.
Rely on ContractorMen to plan and execute your dream kitchen. Working within your budget, they can recommend design, function, and décor. Check out their website gallery for more kitchen projects and read all the complimentary reviews on their Houzz page. Did you know they were just voted 2019 Best of Houzz for Service? You won't be disappointed in the commitment to quality workmanship. Call (404) 801-5656 today to get started on your new dream kitchen remodel.
https://contractormen.com/wp-content/uploads/2019/03/ContractorMen-Kitchen-Remodel.jpg
600
800
Renee Huepper
https://contractormen.com/wp-content/uploads/2017/05/logo3-2.png
Renee Huepper
2019-03-25 03:40:31
2020-01-11 09:03:56
Kitchen Remodel – Fixing up the Most Important Room in the House