We know you find it relaxing and enjoyable to sit out on your 2nd floor patio overlooking your backyard. You may even have a BBQ on the patio and an area for your table and chairs to share a meal with your family. The 2nd floor deck is a great space to entertain and gather with friends o the week-end or to celebrate a special occasion or summer event. Why not double your outdoor living space and add an under deck area. This under deck patio could be used as an additional place to enjoy family and friends or create a secure and waterproof space to store outdoor equipment. The options are endless!
Under deck drainage system
One of the most important contractual elements of this system is the design of the drainage system that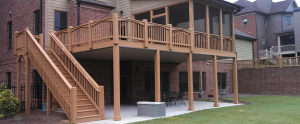 keeps the under deck area free from rain, moisture and ice by managing the water that may hit the upper patio (unless it is enclosed). The under deck drainage system is an intricately placed design of drain spouts that direct water under the concrete slab that is poured (and possibly stamped) for the floor of the under deck patio. Our experienced choice of waterproof receptacles in this system ensures that we avoid short circuiting electrical systems and outdoor water problems.
Under deck ceiling
The ceiling that is built after the under deck drainage system is installed can be a reflection of the clients taste and design. Many clients add specialty lighting, ceiling fans to create a space or a room that will be dry and safe for any electrical equipment.
Under deck ideas
Many clients choose to enclose the under deck patio, creating an outdoor entertainment room by adding a flat screen TV, elaborate furniture and a microwave for movie time popcorn! Other clients choose to create a gardeners dream complete with potting bench and special lighting to improve the seedling stage of planting. Adding a concrete stamped patio, your flooring for your under deck patio will be completely waterproof, due to an occasional spill. Create an outdoor dining room or family room. Your choice of adding an off-set area for a BBQ will complete your under deck patio and where to entertain will never be a problem again!
Complete the look of your home and your backyard. Create an outdoor living space and add an under deck roofing system to your patio. Create a quite space to enjoy a good book, listen to the birds or relax with a cool glass of lemonade. Enjoy yourself more this summer!
Call the contractors who do the job right the first time! Call the contractors who will ensure that your under deck patio will be designed and executed properly to avoid wood rot from poorly constructed and planned drainage systems. We have the experience and the knowledge to turn your unused under deck area into an area to securely store your outdoor equipment or create an outdoor living space for you to enjoy for years to come! Contact us or call us today at (404) 801-5656!