Masonry is the construction of walls, pillars, stairs, fireplaces and more using bricks, granite, stone or marble as a vertical structure. These materials are bonded with mortar cement and offer homeowners a custom, durable solution. Some say the art of true masonry is lost, but that's not the case. Beautiful masonry will never go out of style, and it truly is a form of art. Masonry is a learned skill that requires knowledge, experience and an eye for design. Different types of masonry are applicable to different budgets, aesthetic desires and building weight-bearing properties.
True Masonry – built from the ground up with a solid footing, slab, concrete block, or liner brick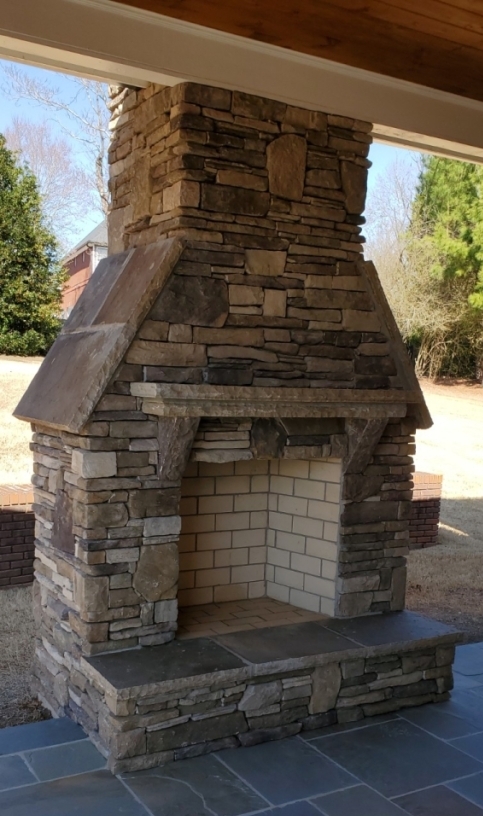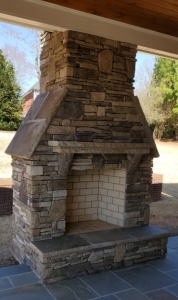 Veneer Masonry – brick, stone, cut rock or artificial stone applied to a wood frame structure
Faux Masonry Panels – lightweight fiberglass panels that are a casting of masonry designed to look like brick, stone or rock used when true masonry of brick veneer is not acceptable due to cost or weight
True Masonry Fireplaces
True masonry is the type of construction that stands for decades. Proper building techniques must be in place to hold the customer's chosen stone or brick weight. True masonry's solid and quality look is unmatched by veneer or faux projects. A custom-built true masonry fireplace adds warmth and coziness to any home. This living room focal point will draw folks in, creating a "heart of the home" feel where everyone wants to gather.
Check out the progression of this Masonry Fireplace project completed by ContractorMen.
Custom Masonry and Live Edge Mantels
Masonry can also enhance a home on the exterior with a chimney rebuild or front steps. Outdoor masonry fireplaces make a beautiful addition to any outdoor living space, and the perfect pairing to a masonry fireplace is a real wood, live-edge mantel. ContractorMen offers all of these services and more. True masonry fireplaces are our specialty. We build them brick by brick in the style you prefer. In addition, custom live-edge mantels are one of our favorite projects. We thrive on creating the exact look you want with quality materials and expert workmanship. Call ContractorMen for unique fireplace and/or mantel fabrications today. We build it to last and to look beautiful at the same time.