It doesn't matter if you have a small bathroom or a large spacious master bath you want to remodel, there are a few bathroom must haves you want to consider adding to the list of wants if you are planning a bathroom remodel.
Awesome Bathroom Lighting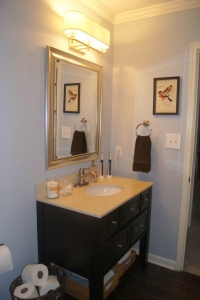 Don't just add a few can lights to your dark bathroom, consider adding a few show stopping sconces to spice up your vanity areas. Choosing a sconce that reflects the style of the room (and spending a little more of your budget on it) will make the lighting choices you make special. In addition to a sconce, if your bathroom is larger in size, placing a modern light fixture in the center of the bathroom or better yet, a dreamy, elegant chandelier over the tub area, will surely lead to a pruney body with every soak. (You'll be relishing in your decision to install the chandelier and patting yourself on the back for the good decision you made!) Try and think outside the box when it comes to your lighting choices. You won't regret paying attention to this detail that will make an impact on the space.
Bathroom Vanity
When choosing your new vanity for your bathroom remodel, take into consideration the space you may or may not need for organizing. Can you get away with open shelving underneath or is your bathroom too small and you actually need more drawers to hide away personal items? Many remodeling professionals can take a piece of furniture (like a dresser) and magically turn it into a bathroom vanity by cutting a hole for a sink and making a few other modifications. This option will certainly allow you to express your creativity and originality as you help design a one of a kind, no-other-like-it vanity for your bathroom.
Flooring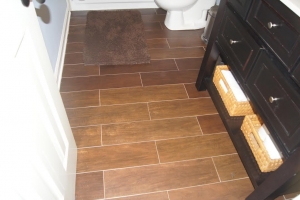 There are more flooring options available for the bathroom than one would think. Tile is always the obvious choice (ceramic, marble, travertine). For a larger bathroom 16" tiles make a bold statement. If you like the look of wood, consider a tile that looks like wood or better yet, choose wood flooring itself! A well sealed oak or other hardwood floor are excellent flooring choices. A pebble or river rock floor does wonders for massaging your feet. If you really want extravagance, add heated floors to your remodel. Of course, you have to decide to add heated floors to your remodel early in the decision making process as plumbing needs to be added under the floor.
Shower
A small space can made to look larger when your shower is all glass. For larger bathrooms choose an even bigger look and go with a walk in shower! Don't forget the multi head shower that sprays every inch of your body or perhaps a relaxing rain shower head is more your style. If you have to start your day with a long, hot shower, you may want to consider adding a steam shower. Don't forget to add a small bench so you can really enjoy the time you spend in the shower!
Bathroom Colors
A smaller space will look and feel bigger with a lighter color palate. Gray is the new white but you should always choose colors that you like. Get a color wheel and try adding a bold opposite color as an accent for a wall or maybe the accessories that you choose. There are lots of palates for you to choose from: monochromatic, complimentary, analogous, shades and compound. A good tool to help you choose which direction to go is the Adobe Color Wheel.
A bathroom remodel can be an exciting project to undertake. Make sure you hire the right person to make this project as enjoyable to execute as it was to dream about and plan. In the end, you want to have a great experience every time you go in to your bathroom and choosing the right person to complete the project is an important part of making this transformation, no matter how small or large, a reality.
https://contractormen.com/wp-content/uploads/2015/01/Small-bathroom-remodel-ContractorMen-3580-Pollys-Bluff-Cumming-GA-300281.jpg
1024
681
Catherine Kolkoski
https://contractormen.com/wp-content/uploads/2017/05/logo3-2.png
Catherine Kolkoski
2015-01-17 12:00:49
2017-05-24 15:27:55
5 Bathroom Remodel Must Haves