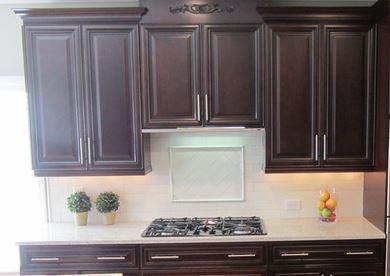 There are many elements to any kitchen remodeling project. You have to decide which contactor to choose, when to do the project, what style you want it to reflect, and what the budget is for the project. You have to choose the cabinets, the flooring (perhaps) the appliances, the countertops, new sink and faucet, new lighting and a new backsplash. Each one of these choices is executed separately but needs to be integrated together. Your Remodeling Company can be a big help with some of these decisions. It's a great idea to go through magazines at your local bookstore and websites like HGTV.com and Houzz.com for ideas and looks to create. One of the smaller elements but one that is a highlight of the kitchen redo is the Backsplash.
Flexible design options with a Tile Backsplash
Homeowners have many choices today when considering options for a backsplash. Tile is a great choice due to it's flexibility and price range options. You can have it installed diagonally. You can mix tiles to form shapes or draw attention to appliances in the kitchen. There are several options you have for the type of backsplash tile you want to install: glass, stone, ceramic, travertine, mirrored, large tiles, slate tiles, custom mosaic, subway style, or specialty- shaped tile. A  combination of a few of the tile choices such as glass and metal or glass and stone wold make a dramatic and modern backsplash for anyone's kitchen!
Metal is a backsplash not a music genre!
Homeowners who tastes drift more toward a modern or minimalist style will appreciate the look and function of a metal backsplash. A metal backsplash can be cut to the desired specifications and choices include: copper, stainless steel and bronze.  A metal backsplash is easy to clean and resists heat. If you like the look of metal but not the price tag of it, choose metal tiles!
Marble and Granite Backsplash
Although a very popular choice for countertops, a marble or granite backsplash may knock your budget out of the park due to the fact that another large piece of marble or granite will be needed for the backsplash. The seamless look from countertop to backsplash is a homeowner's choice. Those hoping for a more budget friendly option may look at granite or marble tile as an option.
More Backsplash Options
If you are splurging on another design element in your kitchen there are always creative options for the backsplash such as a good paint, artwork, or laminated thermoplastic panels (which you can cut and mount), chalkboard backsplash, acrylic, corrugated metal, or mirrored!
Choosing a backsplash that suits your design style and budget will complete your kitchen remodel and you'll have a backsplash that you can enjoy every time you step I the kitchen!
https://contractormen.com/wp-content/uploads/2014/11/Subway-Tile-Backsplash-ContractorMen-Cumming-GA.jpg
276
390
Catherine Kolkoski
https://contractormen.com/wp-content/uploads/2017/05/logo3-2.png
Catherine Kolkoski
2014-12-05 12:00:23
2017-05-24 15:27:55
Kitchen Backsplash Choices