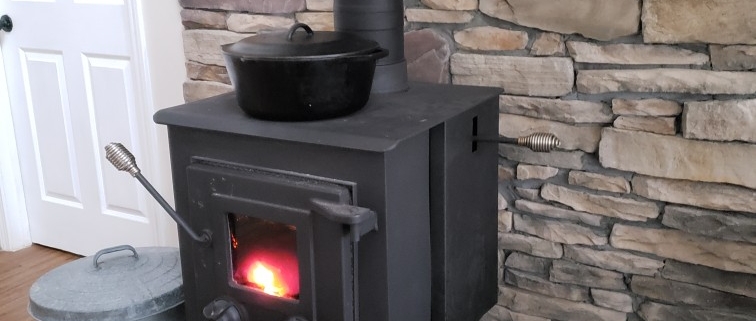 Of course, ContractorMen can complete every aspect of your home renovation or addition. But every once in a while, we are asked to execute a custom project special to our clients. We welcome these opportunities to be creative, work with our hands, and to build something unique for a homeowner. These projects are not only fun for us, but our clients love them as an element in their home that no one else has exactly the same. Read on to learn more about a recent project like this for a wonderful client looking for a wood-burning stove.
Custom Remodeling Project – A Little History
A few years back, ContractorMen built a new interior for a beautiful lake house in North Georgia. Part of this renovation included removing an old, inoperable wood-burning stove and the demolition of the stonework surround. The property owner had no use for the old stove and gave it to us. It stayed in storage for many years, awaiting its next life, always in the back of our minds.
Wood Burning Stove Install
We were recently contacted by some homeowners looking for a wood-burning stove. Their existing fireplace was small, vent-free, and had no chimney. Basically, this fireplace put out little to no heat. It was really only good for hanging stockings at Christmas time.
We unearthed the old wood-burning stove from storage and got to work, giving it new life. Refurbishing included replacing the glass door and cleaning up the stove. Demolition of the old fireplace took place. Incidentally, we found an electrical fire hazard behind the wall. A gorgeous antique copper ceiling panel was added, beautiful stonework installed, a fireproof base installed, and a stove pipe that vented through the ceiling built. Creating a unique stove was a fun custom remodeling project that the homeowners were thrilled with. Now they can actually enjoy heat from their unique stove.
Contact us online
or call our office directly at 404-801-5656.
https://contractormen.com/wp-content/uploads/2021/03/Stove-complete.jpg
1008
756
Renee Huepper
https://contractormen.com/wp-content/uploads/2017/05/logo3-2.png
Renee Huepper
2021-03-04 12:00:13
2021-03-05 08:13:53
Wood Burning Stove – A Fun Custom Remodeling Project