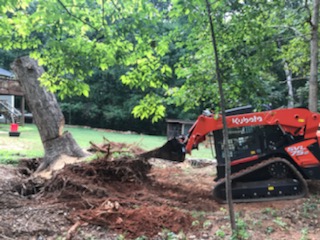 Whenever I find myself flying back home to Atlanta, GA, I am always taken aback by how green our state is. The trees, in particular, stand out. Flying up and down the East Coast will surely emphasize how many beautiful trees we have in our neck of the country. Beautiful and big trees are a treasure. They can, however, also be a hassle when big storms travel through the area. And we all know that storms in the deep South are no joke. Living in Georgia, most of us have experienced a sudden and strong summer thunderstorm or hurricane. When these storms tear through northern Georgia, they often take with them some big trees. The good news is that ContractorMen is your one-stop shop for storm debris and stump removal when you have experienced a storm that has affected your property.
Trees and Debris
If you wake up one morning to a large tree down in your yard or lots of debris from several trees, you might wonder who to call. This cleanup can be a huge job, one you don't want to tackle on your own. It might also be outside the capability of your personal lawn equipment. Calling ContractorMen is your simple solution. One call will bring David Walters, owner of ContractorMen, out to your property to assess the damage and offer quick and thorough solutions. You can set your worry aside about the hazards your downed tree and debris might cause. ContractorMen has the proper equipment to pick up any and all debris and haul it off in a compact dump load trailer. The area of damage will be regarded and smoothed out ensuring that it will look as clean and tidy as it was before the damage occurred. You won't have to call anyone else or worry about fly-by-night tree services that are just out to make a quick buck. ContractorMen has been in the home business for decades and isn't going anywhere. Check out a recent storm mess that was gone in no time, including the stump removal of a large fallen tree.
One Call for Storm Debris, Tree and Stump Removal
Consider ContractorMen whenever you need help removing trees, stumps, or debris. While we certainly prefer you don't have any trees down on your property and that we can keep Georgia as green as possible, we're here to help if the unfortunate happens. Call 404-801-5656 today, or keep our number in your phone for the future. ContractorMen is just one phone call away!
*Stay tuned for our next blog with images showing the final product and beautiful landscaping after ContractorMen cleared away the storm damage.*
https://contractormen.com/wp-content/uploads/2023/10/IMG_20231012_103928.jpg
240
320
Renee Huepper
https://contractormen.com/wp-content/uploads/2017/05/logo3-2.png
Renee Huepper
2023-10-27 12:00:18
2023-10-29 10:42:45
Storm Damage Cleanup You Can Count On