You've found that perfect piece of furniture and can't wait to add it to your home décor, but it needs some work. Finding unique pieces at yard sales, flea markets, antique shops, or on the side of the road is so fun. But what do you do if you just don't have the time or even the expertise to refinish the piece? Where do you turn?
Local furniture refinishing expert Jayne Walters can take your piece and your vision and create a beautiful masterpiece, breathing new life into it that you will love for years to come.
Stool Refinishing Project
Jayne takes us through the process of a recent antique stool refinishing project…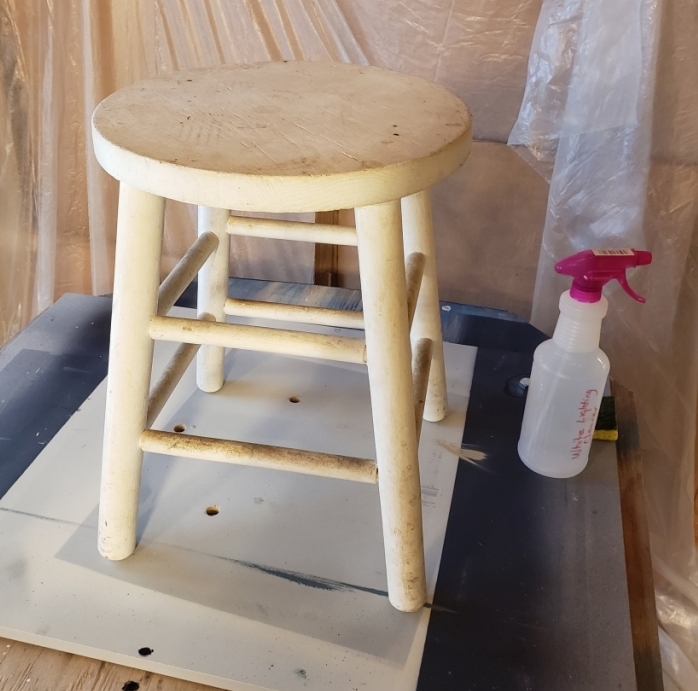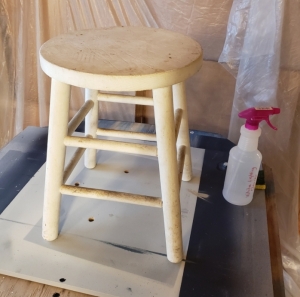 Preparation for restoring this antique milking stool begins with cleaning with Dixie Belle's White Lighting. This product is a cleaning deglosser. Spray product on, allow to sit for a few minutes then scrub with a scrubby pad, rinse, and dry.
The next step is to sand to remove paint runs, drips, and chips. This is done using 150 grit sanding block. After rough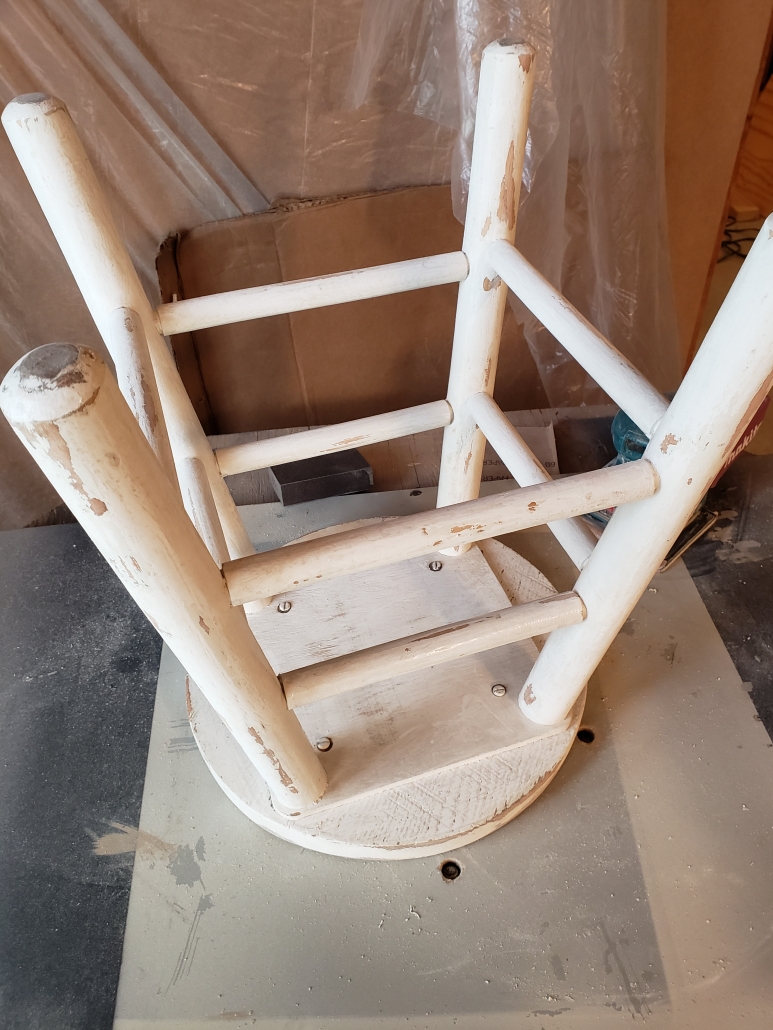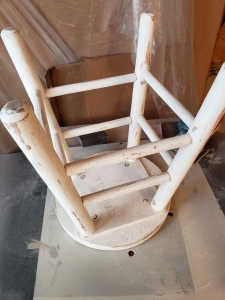 sanding, then you will go over it a second time with 220 grit sandpaper to smooth the existing finish. Once finished, wipe all surfaces with a damp microfiber cloth. This may need to be done twice due to the amount of sanding dust created. (SAFETY MESSAGE: Always wear a mask when sanding furniture) Then use a tack cloth to remove the tiny particles left behind.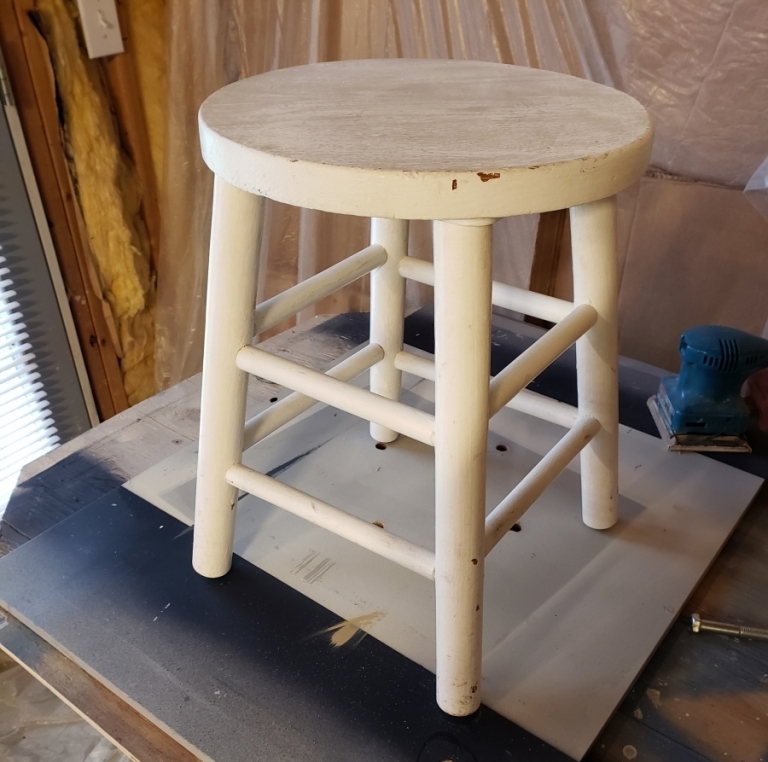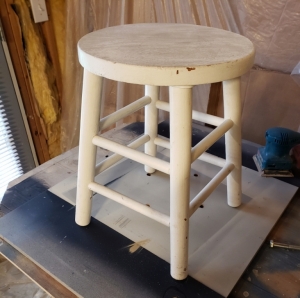 I have turned the stool right side up and will repeat the cleaning with White Lighting and sanding steps shown above. You may have realized by now, there is a lot of prep work prior to painting a piece of furniture. This being a very old milking stool, the client didn't want all the chips and dents removed. So we left the character of the stool as shown.
Finally, I start to paint! Using Dixie Belle Drop Cloth paint. To achieve a smooth finish, apply the paint in thin coats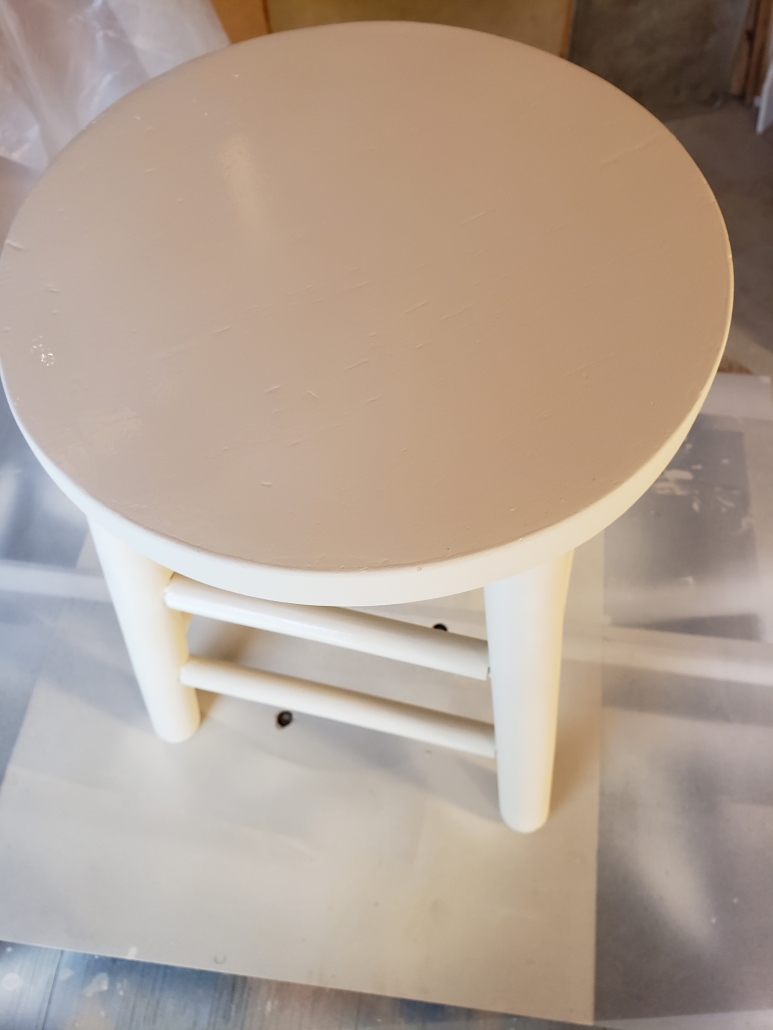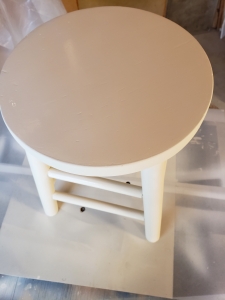 using a misting bottle (found at beauty supply or online). Dip the paintbrush into the paint then mist the paint on the brush before applying it to the stool. Use light even strokes. Dixie Belle Paint is self-leveling to a point, but if you overwork the paint there will be brush strokes. If you feel the brush dragging, then you need more paint or you need to mist the brush again. It is better to apply two thin coats than one heavy coat, this will give you fewer brush strokes.
Of course, you need to sand between coats with super fine sandpaper after each coat has dried. I really think I may sand more than paint!!! Clean with a damp microfiber cloth after sanding.
The second coat of Dixie Belle Drop Cloth Paint has been applied, dried, sanded to a buttery finish and now we are applying the protective coats. I like to use Minwax Polycrylic in a matte finish. It has a little shine but doesn't show brush strokes like satin or gloss finishes. All those that "hate shiny furniture;" this picture is with the top coat still wet. If you look closely you can still see the chipped wood and dents in the stool.
This is a finishing pad used after design and before the final coat of Minwax Polycrylic. You still have to wipe with the damp microfiber afterward but not the tack cloth. Let dry and you are finished!!!!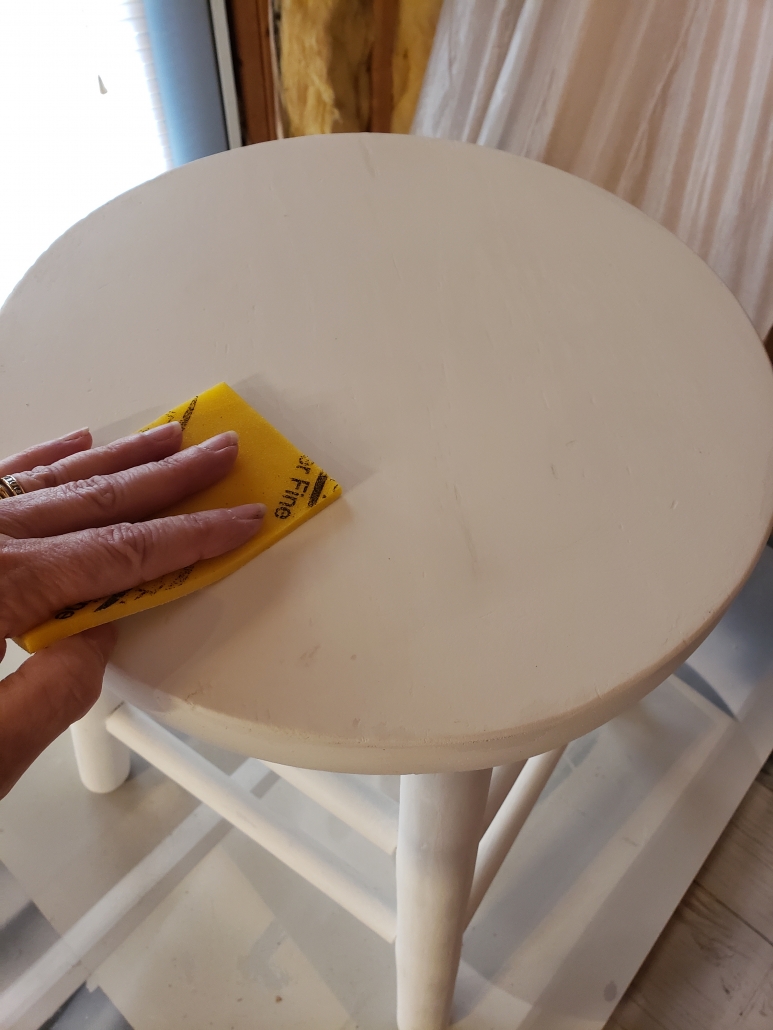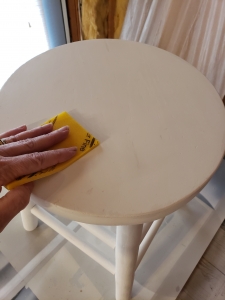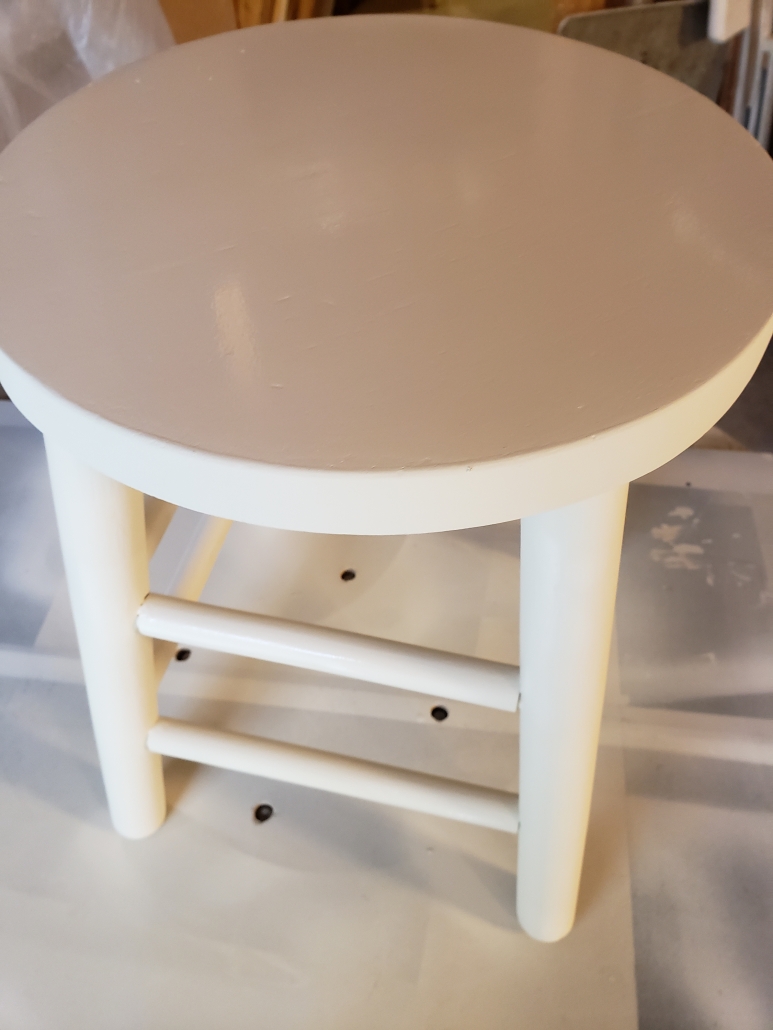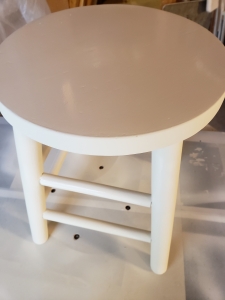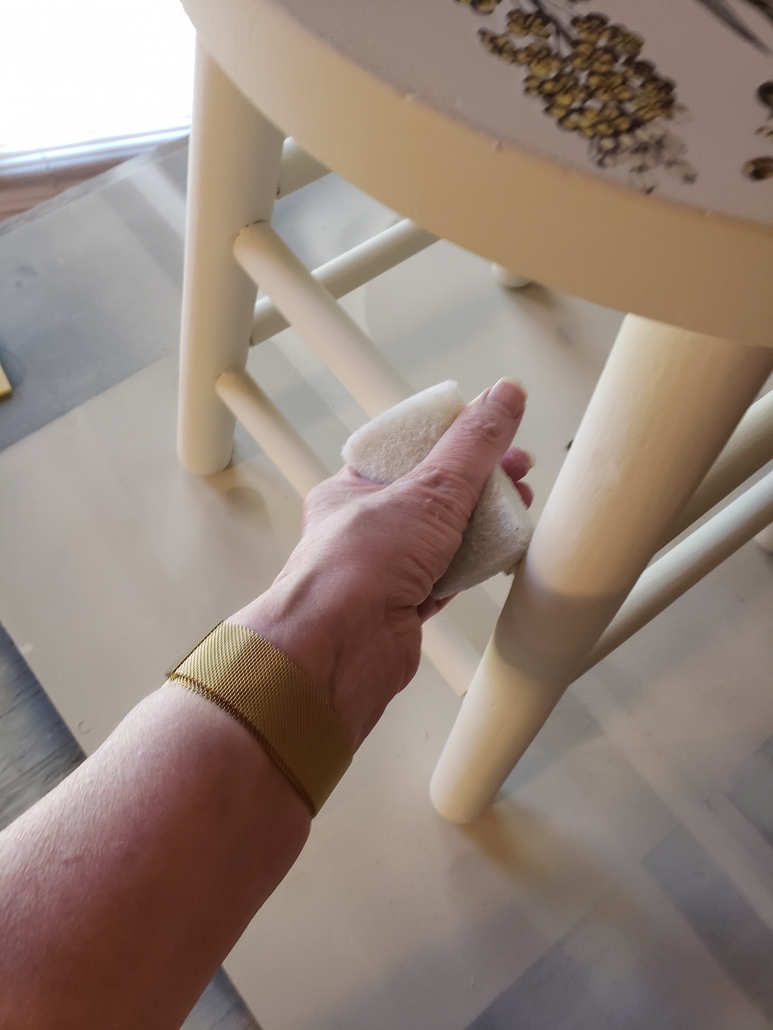 This beautiful final product is ready to go back to its home.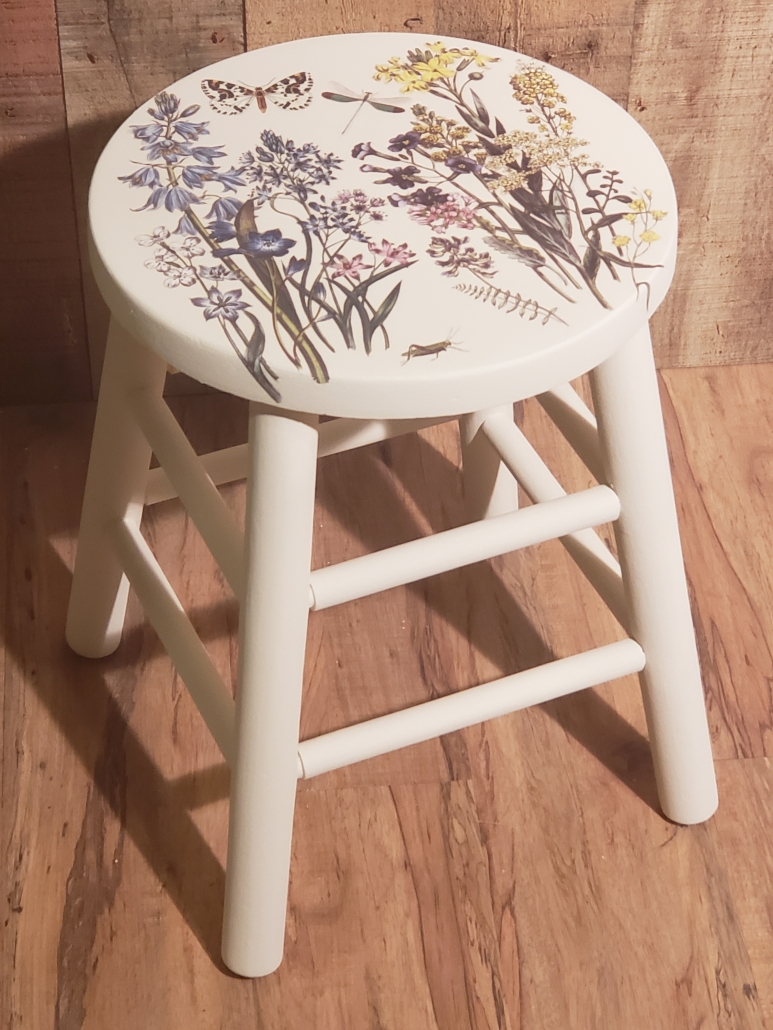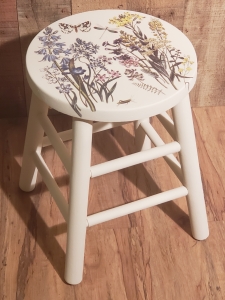 Refinish Your Favorite Furniture Piece
Contact Jayne Walters at (678) 910-2502 to discuss your refinishing needs. She can tailor her process specifically to what you are envisioning. She works with all types of furniture and finishes. Make your home reflect the style you love most with unique furniture pieces no one else has.
https://contractormen.com/wp-content/uploads/2021/06/Finished-stool-scaled.jpg
1024
768
Renee Huepper
https://contractormen.com/wp-content/uploads/2017/05/logo3-2.png
Renee Huepper
2021-06-04 11:00:33
2021-06-04 11:04:59
Local Furniture Refinishing Service