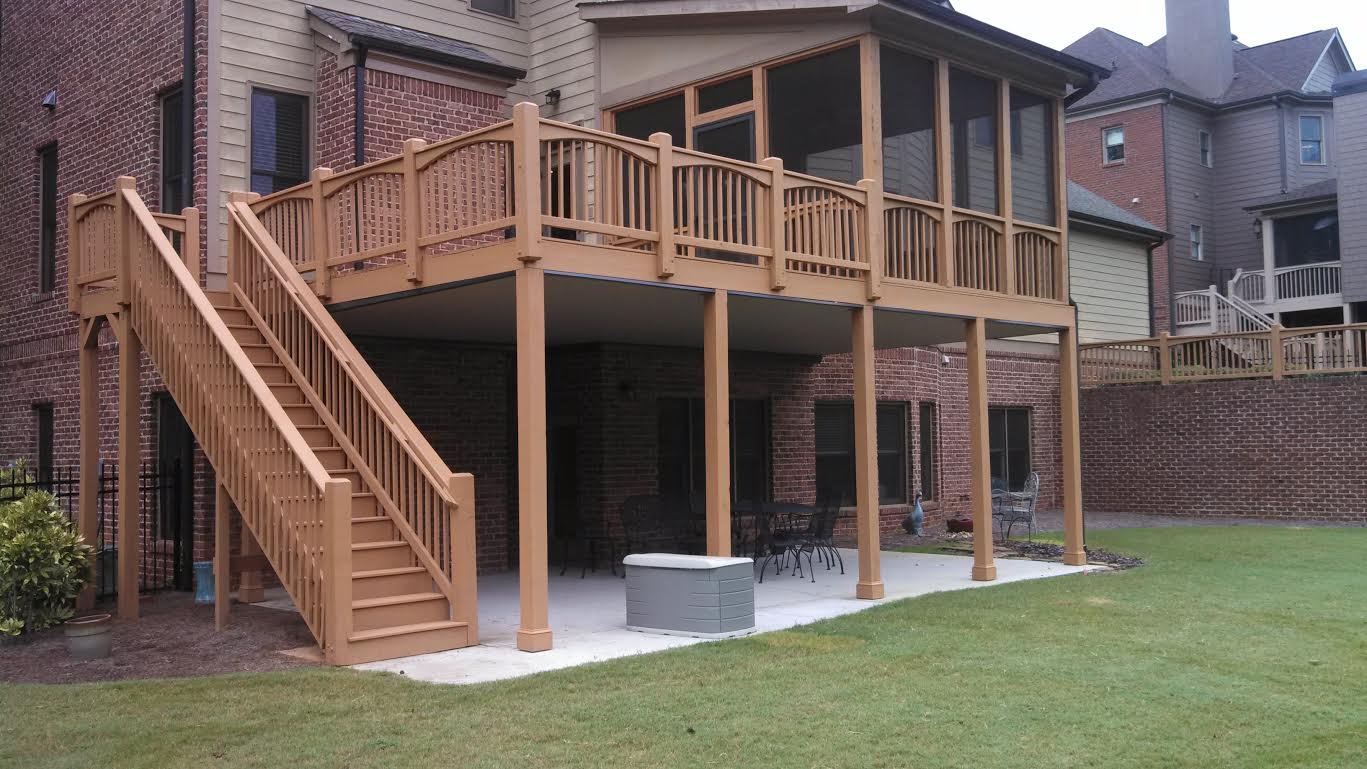 Adding a deck to your home exterior is a wonderful way to increase your living space while adding curb appeal and value. There is nothing quite like a deck for spring and summer lounging, grilling out and entertaining guests. Adding a deck will cost a fraction of the expense of a complete room addition while still making your home more attractive when it comes time to sell.
Planning your Deck Construction
Can you picture it? A beautiful deck off the back of your house with a grill, an umbrella, some lounge chairs and a cool drink in hand is easy to envision. Some real planning, however, needs to go into deck construction to make it functional and aesthetically pleasing. Choosing a size and location is a great place to start. Decks can be too small or too large for a home making the proportions seems off and causing the whole house to appear strange. A general rule of thumb is that a deck should not be larger than the biggest room in your home. This is not always true, but it's a good way to start thinking about the size you need and want. Looking at homes in your neighborhood or close by that have decks you like can also help. Searching online pictures on Pinterest or projects on Houzz can help determine an image of what your house can handle when it comes to deck size.
Making sure your deck fits well in your yard is also essential to consider. A smooth transition to the landscaping makes a deck "feel" right. Consider the space and slope of your yard. Are there shade trees that will keep the mid-day heat and sunshine off your deck? Also, how will the deck fit into your home? Where is the ideal access point? Traffic flow is important as well. Do you want everyone walking through the kitchen to access the deck? Do you need a bigger doorway to handle better flow? Do you want more natural light to come through? All these elements should be considered before finalizing your deck plan.
Deck Design and Add-ons
What your deck looks like is important as well. There are many options when considering deck materials. Each comes with its own set of pros and cons. Take some time to thoroughly research options. Plastics and composites and natural or pressure treated wood have different looks, maintenance requirements, lifespan, and cost. While considering budget, there a multitude of add-ons to think through. Some to consider are…
Built-in lighting Pergola Railing
Seating Pillars
Complete Deck Consultation & Construction
Now you know that there is much to consider when adding a deck to a home. Relying on a contractor with years of experience and happy customers is the best way to go, especially if your property needs grading. The foundation your deck is built on and the workmanship with which it is constructed can make a huge impact on the final deck as well as how long it lasts. When you start thinking about adding a deck to your home in the Northern Metro Atlanta and North Georgia area, think of ContractorMen. They are a turnkey construction company that can help with every aspect from planning to building a deck on your home. Simply call (404) 801-5656 or contact ContractorMen online to get started on your spring/summer deck and before you know it you'll be sipping sweet tea and relaxing on your new deck. Visit ContractorMen on Houzz to see past projects and read their customer reviews. Get that deck going sooner so you can start enjoying it faster!
https://contractormen.com/wp-content/uploads/2018/04/cm-deck2.jpg
769
1367
Renee Huepper
https://contractormen.com/wp-content/uploads/2017/05/logo3-2.png
Renee Huepper
2018-04-26 12:00:58
2020-01-11 09:24:23
Deck Construction – Things to Consider