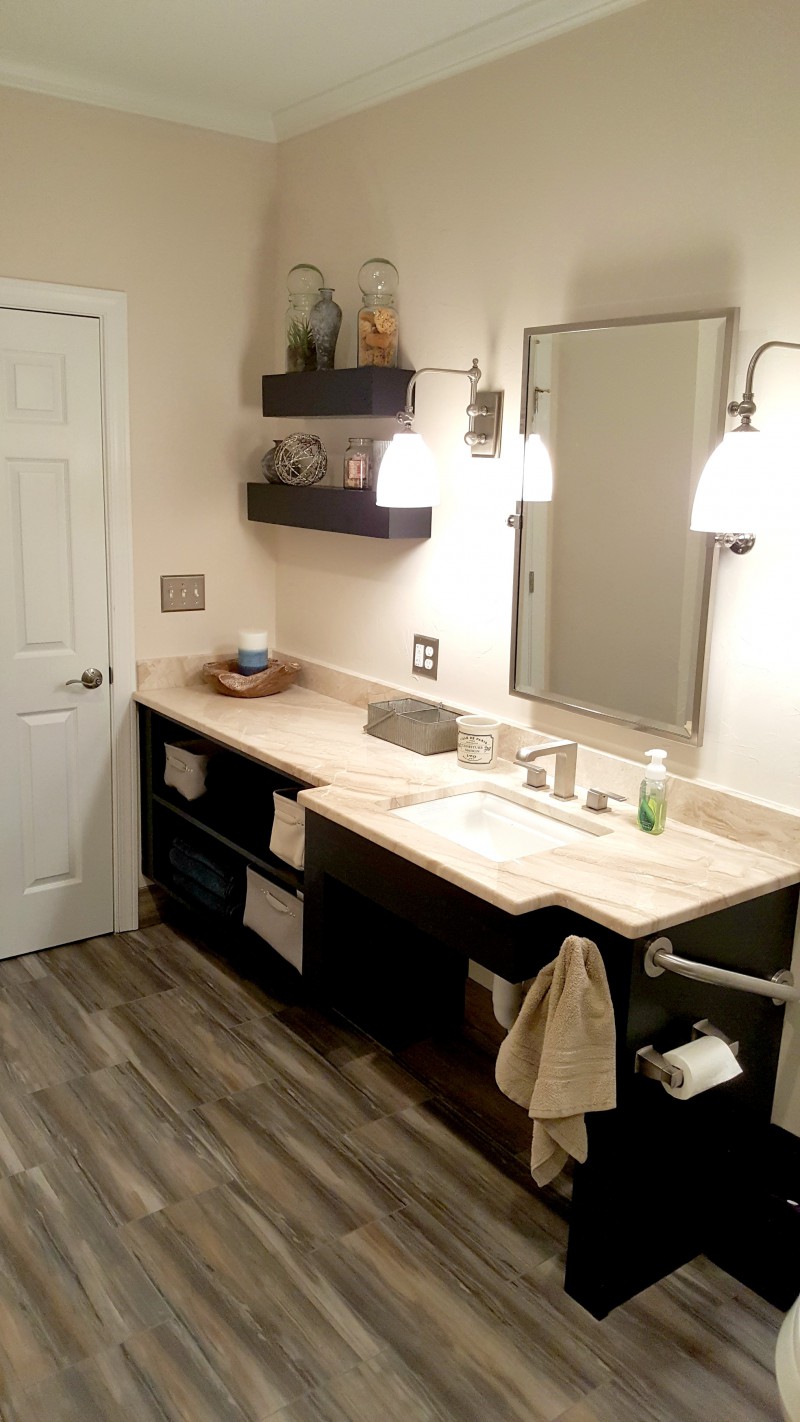 When life hits you with an accident or illness, causing you or a loved one to be confined to a wheelchair your whole world can be turned upside down. Adjusting can be very difficult. Not only must you accept this new reality but suddenly getting around becomes much harder. Most venues and commercial buildings are equipped to provide access to those in wheelchairs, but your home is not. Remodeling a home to ADA (American's with Disabilities Act of 1990) guidelines is necessary for ease of function in your own home.
ADA Entrance
Many homes have steps or a stoop that leads to the front door. Even if a house is one-level, there is often a small step up through to the entryway. Remodeling for an ADA entrance can require simply the addition of a ramp with a railing, or it can be more complex depending on the current configuration. If the homeowner prefers to keep the current stairs, a ramp may need to be added with a separate walkway to the driveway. Also, the front doorway may need to be widened to accommodate the width of a wheelchair. Often, the difference in elevation from the ground to the floor is much more than one or two steps. Sometimes a ramp will not solve the problem and in many cases, a chairlift should be installed for the comfort and convenience of the occupant.
ADA Bathroom
Most people that use a wheelchair prefer to remain as active and independent as physically possible. Updating a bathroom can go a long way in their independence. There is much to consider when making a bathroom handicap accessible. There cannot be a lip leading into the shower if a wheelchair will be rolled right in. Knobs need to be moved lower, and a hand-held showerhead is ideal. Grab bars along the sides of the shower and near the toilet are also helpful. The vanity under the sink should also be open so a wheelchair can move right up to it for handwashing. The entire layout may need to be adjusted or a few minor changes necessary. It all depends on what you start with in the current bathroom.
ADA Hallways and Rooms
In addition to the essential remodeling options above, folks need to consider the width of any hallways in a home. Navigating a wheelchair around a home requires wider space not only to fit through but to turn around. Doors will need to be wider and handles lower and easy to open. Doors that swing inward can be challenging to negotiate with a wheelchair and often sliding doors are easier. Kitchen access, shelving, and pantries need to be considered as well. Every situation is different.
Georgia ADA Home Remodeling
Planning is so important when it comes to remodeling your home within ADA guidelines. Determining what areas of the home ideally need handicap access and deciding the best way to make that happen can be difficult. Sometimes, due to the configuration of the home and other needs, an elevator may be necessary for ingress and egress to the home. This alone can necessitate a complete change of an existing floorplan in order to install an elevator shaft, equipment room, electrical systems and entryways to accommodate the occupants. Relying on a general contractor that has experience in ADA remodeling is critical. ContractorMen in Dawsonville, GA has remodeled many homes to accommodate ADA needs. They have the experience along with the knowledge to design and build all aspects of the construction process. ContractorMen can provide a quote for a remodel within your budget. They can help determine what remodeling aspects are most critical to your situation and create spaces that are beautiful and functional. Call ContractorMen at (404) 801-5656 to discuss your needs today so you can enjoy your home, increase your independence and live in comfort in your ADA home.
https://contractormen.com/wp-content/uploads/2018/02/20170313_093427.jpg
1024
576
Renee Huepper
https://contractormen.com/wp-content/uploads/2017/05/logo3-2.png
Renee Huepper
2022-01-19 11:50:54
2022-01-20 08:58:35
ADA Remodeling for Your Home