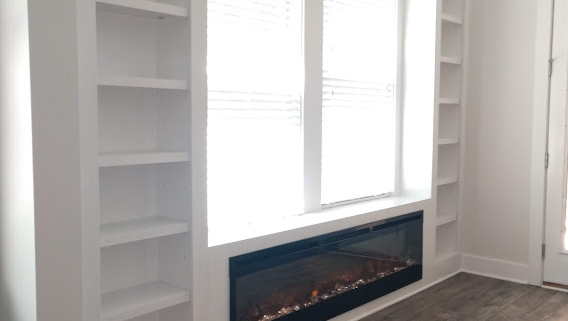 A top complaint from many homeowners, especially those with older homes, is a lack of storage space. The way we live has evolved, and often our homes cannot accommodate our needs. Think about it. We shop discount wholesale stores and stock up on bulky essentials such as paper products, frozen foods, and bulk fruits, veggies and meats. Many folks are returning to DIY at home, requiring more storage space for yard equipment, tools, and machinery. And now that many are working and schooling from home, the need to find usable space is even more critical.
Where to Create Usable Space at Home?
The first place to look for additional space in your home is in the basement if you have one. An unfinished basement is loads of untapped square footage just waiting to be utilized. Adding a bedroom, a bathroom, a small kitchen, a workout space, a home office, or a home-schooling area are just a few options to consider. And the good news is that basement space doesn't have to be dingy or dark.
This basement was converted into a complete living space with everything needed to live separate from the upstairs main home. This is an excellent scenario for an aging parent, an online college student, or a long-term guest.
Lack of Organization
Often a lack of organization is the real issue when folks feel they need more space. A room cannot be used to its maximum capability without some storage solutions. Built-in cabinets or mud-room storage can provide a place for everything while reducing clutter. Cleaning out the clutter can help diminish feelings of stress. When things have a good place to go, we are also more likely to put them back. Storage and organization solutions can also help partition a room for multiple uses; for example, if two people are using one room for school.
Adding space organizing pieces to cabinets can also extend storage options. From pull out trash and recycling cabinets to swing out shelves, you can increase the space you already have in your kitchen but adding some organization elements.
Customize YOUR Space with ContractorMen
Call on ContractorMen for custom, innovative, and creative storage solutions for your home. They are experts in finding ways to make things work. ContractorMen is a full-service, turn-key home remodeling company that can do it all from building out cabinets in your mudroom to completely finishing a basement or room addition. They are also experts in building gorgeous outdoor living spaces that add square footage to your home such as covered patios, pavilions, pool decks, and outdoor kitchens. Check out their online Houzz reviews from actual customers, peruse their previous work projects, and then call (404) 801-5656 to find space and storage solutions in your home.
https://contractormen.com/wp-content/uploads/2019/06/ContractorMen-Built-ins.jpg
757
568
Renee Huepper
https://contractormen.com/wp-content/uploads/2017/05/logo3-2.png
Renee Huepper
2020-07-18 12:05:53
2020-07-17 13:01:20
Finding and Creating Usable Space in Your Home